IFR Workshops
IFR Flight & SIM Center™

IFR Workshops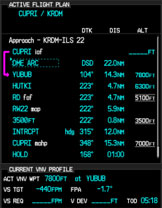 Train with an IFR Flight & SIM Center™ Instructor
In our IFR Workshops, spend half a day, or one evening, training with an IFR Flight & SIM Center™ instructor to develop and strengthen your IFR flying skills. IFR Workshops are conducted "one on one" (one instructor with one student) for optimum effectiveness.
Train with the ELITE Computer-based Flight Simulator
Train with the *ELITE computer-based flight simulator (Basic ATD) and develop mastery level IFR procedural skills.
Targeted areas in specific workshops can include:
• Aircraft Stability
• Instrument Approaches
• Basic Instrument Precision
• Missed Approaches
• Radio Navigation Procedures
• Non-radar Operations
• ATC Clearance Interpretation
• Mountain Flying
• ATC Clearance Compliance
• Emergency Procedures
• Communications Failure
• Normal Departures
• Error Recognition and Recovery
• IFR Departure Procedures
• Partial Panel
• SIDS / STARS
• Situational Awareness
• Enroute Procedures
• Cockpit Resource Management
• Flight Director Operations
• HSI and RMI Navigation
• CFIT avoidance
Workshops can be used in conjunction with an
Instrument Proficiency Check (IPC)
IFR Workshops can be used in conjunction with an Instrument Proficiency Check and are particularly helpful when used regularly as part of an IFR competency maintenance program. IFR Workshops are also available for pilots training to earn their FAA Instrument Rating, Airline Transport Pilot Certificate or Instrument Instructor credentials.
Workshops can include trip rehearsals
IFR Workshops can also include "trip rehearsals" in preparation for actual planned flights.
3 hour IFR Workshop fee: $300.00
(Includes Instructor & ELITE™ Simulator Basic ATD fees; plus sales tax)
---
* ELITE™ (Electronic IFR Training Environment)
**Basic ATD (FAA Approved Aviation Training Device)
Look No Further. Get Started Today!