Letters to the School
IFR Flight & SIM Center™

Letters to the School
IFR Flight & SIM Center™ has received so many nice letters from friends and students over the years who share the excitement of aviation. Browse through and enjoy!
Email from Rich Whitney to Jim Taylor
For IFR Flight & Sim Center™, Jim Taylor is our Aviat Husky Dealer – Rich Whitney is our Husky Client.
Hi Jim,
Well, Thursday was blown out – literally, with gusts up to 40 knots. But we did fly on Friday and got in about 4 1/2 hrs. We went out to Llano where there is a long, wide grass strip and the airport isn't too busy. Dwight was fabulous and I'm starting to get the hang of it. It is really a lot of fun; the plane is very responsive and powerful enough to help me correct my mistakes. I didn't have any terrible landings, but we didn't have much of a crosswind, so it's probably not a very good indicator of my progress yet. I also think this flying will make me much better in my 182, which is always a good thing. Can't wait to get back! Thanks for checking in. I forgot to check on the new stickers for the annual, but have corresponded with Mark, and he indicated they have arrived. FYI, he runs a really nice flight school and has been very courteous and professional.
Rich
Note from Mark (Jan 7, 2018)
I received this text (below) from Chris Barnett today. I trained Chris between ages 14 to 19. Chris' Dad and I kept Chris busy at the airport when he started getting into some minor trouble with his "friends" in Westlake Hills. Chris is now a 5000 hour pilot and a lawyer!
Text:
Photo of Chris with me at Tim Driskill's graduation in Army Flight School. Chris age 19 in photo. I had trained and mentored Tim for the Army Warrant Officer Flight Program, thus attended his graduation. Tim deployed after earning his bars and wings at Fort Rucker – Blackhawk Medivac Pilot in Somolia. Tim is now the Chief Pilot and Director of Avition for SpaceX – flies Elon Musk around in a Falcon 8X and a G650ER.
Chris Barnett
Chriss Barnett Law
www.chrisbarnettlaw.com
Letter from Tony Pladies
Sunil,
I had a great time flying on Sunday. I'd like to introduce you to a friend of mine Mark Wilson, who owns IFR Flight School at the Georgetown Airport. Mark uses FAA approved simulators to hone and import IFR skills. When I came to Mark's school I was ready already signed off for my IFR examination, but I just didn't feel confident that I would ace the exam. Mark applied his military training and experience to raise me up to the highest level of proficiency, well above FAA standards – which I think are the bare minimum to be a safe IFR aviator. Mark made sure I knew regulations and theory inside and out, I was extraordinarily well prepared for the oral and the practical test became just another flight. The FAA Designated Examiner was impressed with my skill, knowledge, and ability to translate FAA book knowledge into reality.
If you are looking for exam preparation or to tune your IFR proficiency Mark can be contacted at 512.751.6275, wilson@flyifr.com and the website is IFR Flight School. Even though I aced my IFR exam over a year ago and have over 100hrs of IFR under my belt, I still regularly work with Mark to keep my IFR edge sharp.
Tony
Tony Pladies
VP Commerce Technology
Dell Technologies | DCS, CTO
Mark Wilson
Nov 11, 2013
My Mom took this photo (upper photo) of me the day I returned from Vietnam April 1971.
The lower day time photo was taken by a 73rd SAC repair technician preparing to launch on a maintenance flight test.  My 226 regular missions were all flown at night.
Thank you everyone for your much appreciated support while my colleagues and I were deployed — and now too!
Mark
Army Aviator
Vietnam 70-71
73rd SAC (Grumman Mohawk Unit)
III Corps, IV Corps, Cambodia

Mark Wilson – First day home from Vietnam, April 1971.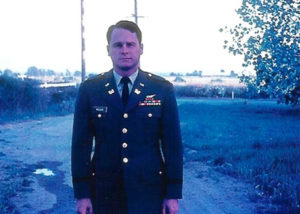 Mark Wilson – This photo was taken by a 73rd SAC repair technician preparing to launch on a maintenance flight test. My 226 regular missions were all flown at night.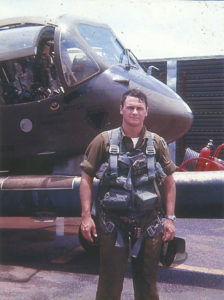 Letter from Ronnie Shelby
October 20, 2016
From Ronnie Shelby, Aviat Husky owner, southern Oklahoma. Husky training with Dwight Vance.
Mark,
The flight home was very good! At 6500′ I had smooth cruising with some head wind but not bad. Clear sky, all the way.
Home airport wind 360 at 6 kts.
Weather was so nice I got in 4 landings to full stop so now I'm night current in both planes.
There was another guy in a Cessna 182 getting night current tonight too.
I learned a lot in the two days with Dwight!
Thanks,
Ronnie Shelby
Husky N184MA

Letter from Jon Meredith
November 2013
Thank you…Mark
Mark and Patrick,
Thanks for all your help in getting 128EA sold. I couldn't have done it without you.
It's pretty crazy that it took them 6 weeks to fix the autopilot issue…
Jon Meredith
Letter from Robert Turner
to Patrick Burns and Mark Wilson
Re: Self Assessment 8/20/13
 Check out the Avare App for Andriod, for pilots by pilots. If I ever get any free time (which now that I'm working on PPL, I won't) I want to help them build and ADS-b IN interface for live traffic and weather. –
Avare
Total time 1.8 hour with concerted focus on my two areas of weakness: Comms while operating the aircraft and touchdowns. I'll mention here that Capt Burns really is a awesome pilot and instructor. I saw an order of magnitude in improvement in the items above.
-For some reason this time I was flying the Archer and not the other way around.
-Patrick was driving me to manage all comms, and this is good; he drove and I did the radios for one round at Taylor, and from then forward I was managing. Not proficient but I feel like 100% improvement over previous. Before it's not that I didn't know what needed to be communicated, it just felt impossible to cognate while flying the plane. For some reason ONLY doing radios for one iteration really helped and my confidence is greatly boosted.
-Had a great handle on the approaches feel really confident in that. We had light but really funky/gusty crosswinds and even so felt like I was coming in on center line pretty well.
-Actually has some decent landings! Long way to go here but something clicked this flight for sure. I was being way to aggressive on arresting the decent and to mild on the flare before. I have a much better sense for the subtlety of leveling out and letting the aircraft settle on the mains.
-No fear of go-arounds at this point, if it's bad or even marginal power up, ease flaps and do it again.
-Getting a good flow for checklist – need practice but at lest if felt like I was managing the plane better with less heads down.
-Started short field / soft field operation — As Capt mentioned I think soft field actually helped with by touchdowns b/c the sight picture is nearly identical.
Best of all, now that my proficiency is at a base level, flying the plane is really getting fun. Next time out is a short cross country and really looking forward to this on Friday weather permitting.

Letter to Jim Taylor from John Earley
Re: Husky training with IFR Flight Training Schoolª Husky Instructor, Dwight Vance
July, 2013
Jim, 
I've been flying the Husky nearly every day over the past six weeks or so. Dwight actually stayed out at our place for several weeks while training. As you indicated, he is an exceptional individual and a great instructor. Dwight worked with me to transition to a local tail wheel instructor and the two have worked together to tag team my training. At this point I need about 2 hours of night work and then am off for my practical. I'd hoped to have it finished before Oshkosh, but my other instructor is working nights for two weeks so we will finish up after I return.
I've had a great time with the Husky and have become very fond of it. My local instructor is an a/p and has taught me all of the maintenance basics. We've done a little minor tweaking on the tailwheel, but everything else has generally been a-ok.
I'll be at OSH Wednesday – Friday next week and will most definitely swing by and say hello.
Thanks for the note,
John

Email from Mark Sandorf
April, 2013
Dear IFR,
Dwight was my tail wheel instructor, as well as my twin rating and commercial rating instructor. He was my mentor in the Super Cub, and we flew together all the way through to aerobatic competition in the Extra 300L. To say that he is an excellent pilot, teacher and most importantly, friend, is and understatement. Calm, cool, professional, and very experienced, you cannot find a better choice for your training, or a more genuine individual to call friend !
Mark Sandorf

Letter from Bill Chapman
October 4, 2012
Mark,
Thanks for forwarding the Husky newsletter to me. I would be happy to receive any similar material you have available. I really appreciate the time and effort Dwight spent training me in Banks' Husky here in Perryton. He taught me a lot about the Husky, including some teaching techniques that I'm finding very helpful. Banks and I are flying quite a bit during these nice autumn days. Thanks again for your help.
Bill Chapman

Letter from Tom R.
September 26, 2012
King Air 200 Initial Qualification Training at SIMCOM, Orlando, FL
Hi Mark,
Here is how my day went in the simulator. Weather is always at night, 200 and one half, light drizzle and fog. Take off, engine failure prior to Vr, abort and back to the runway, take off, engine failure after rotation, fly the published departure procedure, come back for a single engine ILS, runway in sight but have to go around, a plane pulled out on the runway, single engine go around, get radar vectors back for another ILS, marker inbound gear down, gear does not come down, another single engine go around, radar vectors back for an approach this time a visual to ORLANDO runway 18R, SINGLE ENGINE AND PUMPING THE GEAR DOWN, maintaining heading altitude and airspeed, gear finally pumped down, single engine approach, runway in sight cleared to land, put in approach flaps on single engine get a split flap and aircraft wants to roll inverted on one engine, I get control put up the flaps and split flap condition goes away, then a run away trim condition, fixed that, cleared to land and finally on the ground safe.
Thanks for the great training!,
Tom R.

Letter from Bill Chapman
October 4, 2012
Mark,
Thanks for forwarding the Husky newsletter to me. I would be happy to receive any similar material you have available. I really appreciate the time and effort Dwight spent training me in Banks' Husky here in Perryton. He taught me a lot about the Husky, including some teaching techniques that I'm finding very helpful. Banks and I are flying quite a bit during these nice autumn days. Thanks again for your help.
Bill Chapman

Letter from Brad Shore
May 6, 2012
Hi Mark,
Thank you again for the excellent experience I had at IFR Flight Training School. Dwight was a fantastic instructor and I will be returning, likely in the fall. I have told Jim Taylor this is an excellent transition school for the Aviat Husky.  I am looking forward to receiving my Husky Tail Wheel Certificate so I can show my wife and kids. Looking forward to seeing you all again.
Take Care,
Brad Shore, MD

Letter from Brett Sailsbery
September 27, 2011
Mark,
Just wanted to drop you a note to say thanks for the help and great instruction a couple weeks ago. You really have a professional operation going there. I am back in South Dakota and have been flying my tail off. I included a couple pictures for you and the guys…
I have been in search of a good S or V-model Bonanza over the last couple weeks. I have also been looking at Turbo Arrows. I've found a few that are worth the money….most are overpriced, as expected. Do you have any suggestions on whether a Bonanza or Arrow would be a better fit? Arrows are a bit more economical from what I have researched.
Hope all is well in Austin. Happy flying!
"Steak"
Brett Salisbery
B-1 Pilot
Ellsworth AFB South Dakota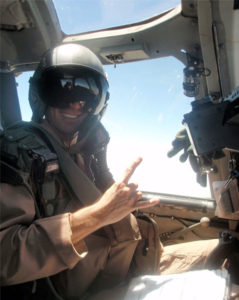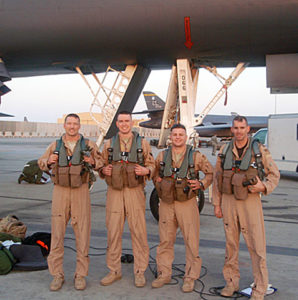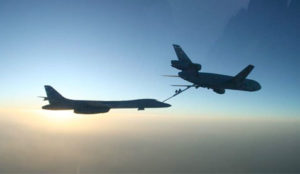 Labor Day email received from Victor Figuroa
September 5, 2011
Dear Mark,
As a matter of fact I was off today. I was not home but I was not flying. Everything is going very well. I am flying quite a bit. We average about 100 hours a month. I am having a good time so far. I will be back home in about four weeks. I will make a point to come see you. I am glad I went through your training. The reason I have this job is because the training I received from you. For that I am grateful. It is kind of funny that you write because today I was thinking about you and I said I need to write Mark an Email.
Thank you for keeping in touch.
Take care,
Victor,
Pilot, de Havilland DHC-7
(Location classified)

Letter from Mark Helmericks

July 14, 2011
Hi Mark,
Wow! It hurts to lose one out of the fleet but thank heavens (and a strong airplane) that everyone survived with only bruises. I used to live right at the base of Pioneer Peak.
I've put 500 hours on my Husky, including trips down to the Caribbean and of course many hours in the Arctic. Your instruction gave me a solid base to begin my education Ð although itÕs sobering to realize, even after three years of flying one, how much there is left to learn. Perhaps that is the enduring allure of aviation Ð it never grows old.
Say hi to Dwight!
Best Wishes,
Mark Helmericks
N365AK

Hi Kent (New Huskey Owner),
You will have a lot of fun with your Husky. I'm at 1680 hours on mine. It's a simple and rugged bird that leaps into the sky and is capable of surprisingly long legs for a bush plane (I've flown mine from Alaska almost to South America) but demands a bit of technique to put back on the ground.
Recommendations: Get a good checkout with Dwight. He's awesome, and fun, and tough, in about equal measure. Also, not sure how you are planning on configuring your Husky, but I'd skip the big tailwheel. I never could get the Alaska Bush Wheel or Alaska Tundra tire to roll without shimmying on pavement – I probably spent the better half of $10,000 on the little wheel in the back before giving up and returning to the factory stock setup, which works fine in the rough, just use forward stick to unload the tail when it's soft (standard Alaska Supercub technique).
I'd also not run the 35″ tires. Too much deck angle and loss of airspeed, and frankly I've never seen a place I'd land with 35s and not be just as happy with 31 or 29s. We run the 35s in Alaska for wet tundra but that's soft muck type of stuff.
Other issues – my stock Champion massive electrode plugs routinely fouled (or failed) every 150 hours despite running LOP. Switched to Tempest fine wire 1000 hours ago and never had another plug problem. Check your fuel after flying in the rain – my Husky collects water (inflight!) – not quite sure how it gets in (yes I changed the filler cap gaskets) but I've bilged out two Gats jars of water after a long IMC flight. Never found it below the wing sumps. You will need a good drain out (not the little sample cup) to get it all. Huskys will also happily drain fuel out of the wingtip vents if you fill the tanks full and park the airplane without the wings perfectly level. Watch out if the line boy fills the tanks in the evening – you may find a large puddle under a wingtip the next morning. My IO-360 promptly vents out the 8th quart of oil out the breather, so don't bother putting in more that 7 quarts.
Beyond that, go fly and have fun. Three – point, wheel landings, tail low wheelies, etc etc – you'll sort out what works best for you. About the only general observation is be careful of full flaps when it's gusty, either on takeoff or landing. The Husky will fly before you have good control authority with the flaps all the way out, which is great for a short field, not so great when the wind is squirrely.
All the best,
Mark Helmericks
N365AK

Letter from Mark R. Richard
Richard Oil Company Oil and Gas Operators, Kansas
(before beginning training program)
May 16, 1994
IFR Flight Training School
Aviat Austin Aero, Hanger Two
Robert Mueller Airport
1901 East 51st Street
Austin, TX 78723
Dear Mark,
My wife Terri just got back from Austin last week, where she was able to rent us a Townhouse on the far North end of Austin. It is actually in the Round Rock school district, so out children will go to Round Rock School, which we were trying for. We have decided to rent for up to a year to give us time to know the area and where we might want to buy a home. I appreciate you sending me the information on the listing that you found in Round Rock.
I am certainly looking forward to getting started with my training and it appears at this time that we will be in Austin the 1st week of June. As soon as we get settled I'll give you a call and coordinate when to come in and get started. Since I was down in Austin I have been flying approximately 2-3 hours a week mostly all of which are cross country hours. I have also been working a little on IFR procedures with my local instructor here in Chanute. Those instructional hours probable only total approximately five. I have however read the whole Jeppesen IFR Training Manual and am currently going over it and reading it a second time.
Let me briefly go over the facts for your information on why I chose your flight training school over the other four that I have visited. All of the other training schools without exception use flight instructors that were on an average of 25 years old. Several of these instructors whom I talked with were not as knowledgeable in certain areas as I am and this is a major concern of mine. They did however state that stage checks would be performed by Senior Instructors, however the major part of the instruction would be handled by one of these young instructors. After spending a few days with you and Brett I came away with a very secure feeling that I would receive far better training than any of these other schools. All of the other schools stressed a hurry up and get through with the training type of atmosphere and a lack of attention for quality training. Several of the graduate instructors at Flight Safety in Florida had never flown out of their immediate area of the United States. I feel like after going through your training that I will be equipped to fly anywhere in the United States that I choose to. I was also very impressed with the amount of time that you personally spent with me and all of your follow up work. Many of these other schools I never heard back from and the only way that I could get questions answered, were to initiate the contact myself. I'm sure you have in the past and I encourage you to in the future to handle your other perspective students similar to the way you handled myself. Yourself and Brett Mercer and the city of Austin as a home and training location vastly outclassed the other schools that I visited in trying to choose a quality flight training center.
Sincerely,
Mark R. Richard

Letter received by Mark R. Richard,
Richard Oil Company Oil and Gas Operators, Kansas
(after completing training program)
October 4, 1996
IFR Flight Training School
Aviat Austin Aero, Hanger Two
Robert Mueller Airport
1901 East 51st Street
Austin, TX 78723
Dear Mark,
I would like to take this opportunity to express to you my thoughts about the excellent program you have developed at IFR Flight Training School. My expectations and needs were fully met by you and all of your excellent staff instructors who I had the opportunity to work with.
Prior to attending your school, I visited three of the nation's most renowned flight training schools as well as all of the schools in the Austin area. I had made the decision to change careers and wanted to get the best training I could and to pursue it as quickly as my abilities allowed. I visited at length with instructors of the schools and toured their facilities. I spent three days at a popular Florida flight school and quickly concluded that if I attended their training program that I would become just another number.
After seeing for myself the different programs and comparing them to IFR, there was no doubt in my mind which program would enable me to be the best pilot I could be. I felt like you and your school would be able to get me further and faster to my goal of becoming a professional pilot. I met no one better qualified or with higher standards than yourself for preparing a person for a rating or career. I was especially impressed with your aviation contacts and the personal attention you give all of your students throughout their aviation programs.
I was right! After receiving my Learjet training in Dallas I was very pleased that I had taking the extra time working on my ratings at your school instead of the rushed programs that your competitors were trying to sell me. You were so right when you told me that anyone could get a rating, but when it was time for an interview or being faced with some sort of challenge, many people fall short due to poor initial training. My instructors at SimuFlight commended me on my instrument skills while flying the simulator in adverse situations. I attribute this directly to you Mark and to my training I received at IFR Flight Training School with your constant guidance.
I would also like to thank you for spending the extra time with my family and me to help us get settled in Austin. It is always hard to make a move but thanks to your introductions to local doctors, dentists and friends we very quickly felt at home here in Austin. Your friendship has meant a great deal to us.
I would also like to thank you for spending the extra time with my family and me to help us get settled in Austin. It is always hard to make a move but thanks to your introductions to local doctors, dentists and friends we very quickly felt at home here in Austin. Your friendship has meant a great deal to us.
Sincerely,
Mark R. Richard

Letter from Phil Auldridge
BENCHMARK Flight Center, Hawaii
Mark Wilson
IFR Flight Training School
P.O. Box 2006
Round Rock, TX 78680
Dear Mark: Thanks for taking your afternoon to show me and my wife around your facility. I got some great ideas and inspiration from our conversation, and have already incorporated a few of the maneuvers you discussed in our training syllabus.
I've enclosed a copy of our instrument training syllabus in hopes that it might prove of some use to you. When your new syllabus is completed, if appropriate, we would appreciate the opportunity to review it.
Best wishes for a prosperous year.
Sincerely,
Phil Auldridge
President

Timothy F. Snipples
Advisory Technical Marketing Specialist
IBM Network Computing Software
May 18, 1998
Ron Weber
IFR Flight Training
Austin Executive Airpark
811 West Howard Lane
Austin, TX 78753
Dear Ron:
Thanks again for helping me finish and obtain my instrument rating during my stay in Austin. I was able to put the new rating to good use in my trip back to Chicago this past weekend when there was an overcast layer hanging over Austin throughout the morning.
I appreciated your flexibility in scheduling and your ability to develop a custom lesson plan. You also provided good feedback throughout the training on what I did well and what I could practice more. I found these comments not overly critical or judgemental, but genuinely helpful.
Dwight also did a good job in preparing me for the checkride, particularly for the oral examination.
Again, thank you for your help.
Regards,
Timothy F. Snipples

Letter from Andrew Galewsky
Clinical Resource Systems, Inc,
Austin, Texas
May 23, 1995
Mark Wilson
IFR Flight Training School
PO BOX 2006
Round Rock, TX 78660
Dear Mark,
I just wanted to write and tell you how much I enjoyed working with you and your crew in getting my certificate.
In particular I want to say that Mark Richard is a real asset for your school. His calm and gentle teaching style reflects well on the philosophy of IFR Flight Training School. His excellent grasp of the entire teaching process is very much appreciated by those of us trying to learn how to live in the air. The constant and consistent emphasis on safety in all aspects of flying will serve me well in the future.
The thoroughness of the training and the attitude of all at IFR made the actual checkride seem almost easy and that is certainly the way that it should be.
I hope that I will be able to continue on with an instrument certificate and you can be assured that IFR will be the school of choice for this.
I would also like to thank you for spending the extra time with my family and me to help us get settled in Austin. It is always hard to make a move but thanks to your introductions to local doctors, dentists and friends we very quickly felt at home here in Austin. Your friendship has meant a great deal to us.
Yours truly,
Andrew Galewsky

Letter from Robert W. Eli
Georgetown, Texas 
October 31, 1994
Thank you for helping me get my BFR. I enjoyed flying with Mark Richard, he helped me a lot.
Hopefully, I can arrange to fly with him in out 201 and get some training again in that model.
Thanks again,
Robert W. Eli

Letter from Jim Howard
Leander, Texas
March 14, 1996
Mark,
I just wanted to let you know that I passed my instrument rating checkride on March 12th. The ride went pretty well, despite it being a turbulent, windy day.
I found our simulator sessions to be both fun and very helpful in mastering the basics of instrument flight. Thank you very much for your assistance to me in getting this rating. I'm sure I'll be back from time to time for proficiency training.
Sincerely,
Jim Howard
Leander, Texas

Letter from Melinda A. Walton
Austin Chapter 99's
February 23, 1993
Dear Mark Wilson,
The Austin 99's would like to thank you for the use of IFR Flight Training's ATC 610 flight simulator. Our presentation, "She's a Pilot?!" at the Math & Science Network's Expanding your horizon program was a success. We presented three one hour sessions to nearly 50 young girls. The girls grade 6 through 9, all enjoyed flying the simulators. We even had a repeat participant from last year's presentation.
Your generosity means a lot to the 99's and to the young girls. Thanks again for the use of the simulator.
Sincerely,
Melinda A. Walton
Chairperson
Austin Chapter 99's

Letter from Cole Reed
August 15, 2005
Dear IFR,
I am writing with a minor complaint.
I contacted IFR several weeks ago to discuss flight-training. I explained that my goal was to eventually complete Airline Transport Pilot certification to enable me to change careers and work as a pilot for scheduled airlines.
I visited your facility and met with a member of your staff. We reviewed the instruction philosophy at IFR and discussed how much time I would be able to devote to study and practice. I left that meeting feeling significantly more informed though I must admit, I was caught off-guard by your pricing.
I've visited several flight schools in central Texas, comparing staff, facilities, resources, and curriculum, and naturally comparing prices as well. I've even spoken with college-based aviation program directors who's first comment about IFR is that you offer an amazing instruction program, but their second comment is that such an extensive program is inherently expensive.
I met a second time with one of your instructors and I made it clear that I am not looking for a hobby, or a sport, I am looking for a career in aviation. During this meeting your staff demonstrated a simple example of how many other schools quote minimum prices for minimum qualifications as a pilot. They explained that many other programs target FAA certification as a goal, and that those minimum standards lend themselves to their minimum prices. Your instructor showed me the standards of training required by the FAA and then showed me the far more stringent standards of your school's curriculum.
This was a particularly impressive demonstration of the differences between IFR and the other schools that I had spoken with. I had not disclosed my personal objective with regard to training standards. Being a "satisfactory pilot" or passing the FAA certification exams is of no interest to me what-so-ever. I am looking for a level of instruction which will make me an excellent aviator. I differentiate the two in my mind by thinking that nearly anyone can be taught to "pilot" an aircraft when everything is going right, even a machine can do it (autopilot) but being able to safely handle an aircraft when things are not going well requires the skill of an "aviator", and that is what I am looking for; the skills that lead to the confidence of knowing that I will be able to perform with excellence, not merely adequacy. So again, I was impressed but still apprehensive about your prices.
I read several articles about choosing a flight school, few mentioned price at all and those that did, said to take price into consideration but not use it as a primary deciding factor. The Airline Pilots Association recommends focusing on the curriculum exclusively and leave price and location completely out of the criteria. The Airplane Owners and Pilots Association emphasizes curriculum and instructor qualifications. While I was beginning to understand you unapologetic pricing, I was still concerned with how much higher it was when compared to other schools.
I spoke with independent lending sources and the pricing differential became clear when they asked if I was looking for recreational training or professional training. It occurred to me that in the past, having an applicant tell me that they had received the least expensive training would not have been a motivator for me to hire them; but seeing them demonstrate exemplary training rather than merely sufficient training would definitely have made them far more likely to be employed by me. That is what I want to show my prospective employers and clients.
My concerns about price were eliminated when I expressed them to the lender and they simply said that they routinely approve very comparable amounts for students of professional flight academy's all over the country. To have an independent third party tell me this was very persuasive and comforting to be honest.
My complaint is simply this…you leave me no choice. There are no options other than IFR. Comparing schools, staff, and curriculum, I was unable to find any other school which met my criteria for training to become a professional aviator. I like to have choices, but in this case there are none. Your school is the only one that meets my needs. I mentioned that it was a MINOR complaint.
I look forward to being a student at IFR, and to eventually being an IFR Graduate. More-so, I look forward to the training which will allow me to feel that my life, my family, and my passengers are as safe as they can be. With the age-old advice that "You get what you pay for" echoing in my mind, I cannot be confident in the level of training provided by the other schools that I have interviewed; especially having compared the training curriculum of the various schools.
Please thank your staff for meeting with me, and convey my very specific gratitude that none of your representatives ever tried to "sell me." Your team provided me with clear and concise information which was easy for me to understand and compare. And with flight schools on practically every corner, offering training that will get me a license, it was refreshing to see a school like IFR which offers career training in which FAA Licensure is merely a step along the way, and not the objective.
My financing for training is in process right now, and I'll see you in the cockpit soon.
Looking forward to my wings,
Cole Reed

Letter from Mark F. Sandorf
May, 2011
I have been a pilot since 1983, and did all of my advanced training at only one school, Mark Wilson's IFR Flight Training School. They are located at the Georgetown airport. I met Mark back in the early 1990's. He was an Army aviator, and the most professional flight instructor I had ever met. After spending my first hour with Mark, I knew that his school would give me the best training for the money, and that the first time I went charging off into bad weather, by myself, I would truly be prepared for it. Since that time I have "upgraded" my license from private to commercial, and added multi engine, and sea plane ratings over the years, as well as extensive aerobatic and tailwheel training. I have owned everything from rag and tube Super Cubs to Unlimited class aerobatic airplanes, and the world's fastest piston twin, so I feel qualified to tell you a few things about flying. First, it's expensive. No two ways around it. Whether you want to fly for a living, travel for business, or just fly for fun, you are going to have to love it or you won't finish, because it will take some serious money to get to the point that you have enough hours to be a safe pilot. Second, flying is dangerous if you are not properly prepared, and trained, and your equipment must match the mission profile. To skimp on any of those three is to invite disaster. That's where Mark comes in. He isn't the cheapest out there, but he is the best. He is thorough. He is detail oriented, and all of his instructors are highly skilled professional pilots with tens of thousands of hours, not kids trying to build enough time to get a "real job" flying somewhere else. They charge more per hour, but you get way more, and in the end I think it ends up costing less because you get the benefit of all those years of flying experience. Let me tell you, the first time you are in a bad situation, and your training saves your bacon, you will understand what I am saying. I can think of three situations in particular, that I have been in that I can honestly say that, had my skills not been absolutely sharp, and my training been absolutely top notch, I would not be here today.
Anyway, I'll get down off my soapbox and stop preaching now. If you're serious about flying, be serious about your training, give Mark a call, and go meet him at the school. You'll be glad you did…
Blue Skies !
Mark F. Sandorf

Hi Mr. Mosely
— thanks for writing.  Hopefully we can see you before you head "Down range".
When you become PIC qualified in the C-130 with some left seat time under your belt, we can spend three to five days getting ready to turn in a good ATP Certification Check Ride.  Let's plan on $3,000 to $5,000 for the cost.  Some "Ticket Mills" will advertise less.  Spending more will make you extra sharp for the Check ride and the job that will follow.  As a Military Pilot you will already be flying to ATP standards.  Most of the additional training will be getting sharp on civil aviation FAA procedures, rules and publications and the Check Ride profile.
Congratulations on your great success…
Mark
I saw you CC'd me on an e-mail regarding what looks like someone that's interested in flying with you, and I realized that I haven't updated you on what I'm up to these days. Anyways, the Air Force actually kept it's promise and has since moved me out of UAVs and put me back in a real cockpit, which I'm sure you can imagine I was extremely happy about. I did some good work in my previous assignment but it's good to be a real pilot again. I've moved from Las Vegas to Hurlburt Field, FL and just qualified as a co-pilot on AC-130U Gunships, which is pretty cool. I'll be leaving for Afghanistan in late February for a 3 month deployment. Then I'll be home for the summer and probably go back towards the end of the year. I'm excited about it since I haven't had my chance to go yet. So all in all, things are going pretty well. Plus I get to live next to the beach. I guess I can't fault the Air Force for giving me decent places to live…though the most likely location after this assignment is Clovis, NM…so that could all change. Hopefully I'll be here for about 5 years, which coincidentally takes me to the end of my service commitment. So maybe I'll have some other options by then. Anyways, I just wanted to let you know how I was doing since it's been a long time. 
I do have a question. I'm looking into getting my ATP and I know the rules are changing this year. I'm planning on taking the written test this year to avoid having to pay thousands of dollars to have to take it in the future when they add the training additional requirements in August. Once I take it I'll have 2 years to do the practical. I've looked at all the requirements, and to get a restricted ATP (which is a new thing) all I need is 750 hours since I'm military trained. I should have that within 2 years. I've already got around 300, including pilot training time, plus I think I can use up to 100 hours of sim time. I was just curious if you could give me any information on the practical check ride (cost, length of training, etc) and hopefully I can get that knocked out in the next couple years. I'd appreciate any info you have. 
And if you have any prospective students that want to contact me feel free to give them my information. I'd be happy to put in a good word for you. Anyways, let me know how things are going with you. Hope all is well…
A. Mosley

Letter from Scott Gerbozy
October 24, 2013
Hi Mark,
Yes, I did the Dynamic interview last Tuesday.  It went very well.  My orientation and familiarization with your ELITE Simulator paid HUGE dividends.  I flew a successful sim ride, did the HR portion and they told me to wait for the offer letter.  They did not formally offer me a job, but they didn't show me the door either!
Thank you for all of your help and support, I really appreciate it.
I'll stop by next week for a visit!
Take care,
Scott Gerbozy

Letter from Mark & Bob
September 9, 2013 
Bob — how was your pre-solo stage check with Tom?  
Mark
Mark — detailed, practical, educational,  fun.  Tom is an excellent instructor.  
Bob
Look No Further. Get Started Today!