Patrick Burns
IFR Flight & SIM Center™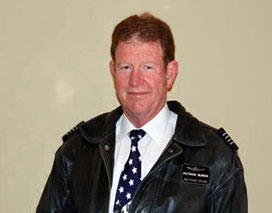 Patrick Burns
Patrick began flying in 1969. He has trained with the US Air Force and flew for Southwest Airlines. Patrick holds ATP, CFII, MEI, and IGI ratings.
Date and place began flying:
March 1969 – solo
August 1972 – USAF Undergraduate Pilot Training
CFI since:
—
Certificates and ratings:
ATP B737, CFII, MEI, IGI, ASEL
Types of Aircraft Flown:
C-150, 172, 210, 402/404/414, Citation, Beech A36 Bonanza, BE55/58 Baron, PA 31 Navajo, T37/38, Convair 240/340/440/580, Falcon 20, B737
Most memorable flight
– that you are willing to admit to!:
My SWA finis flight, AUS, 27 March 2010 with my family in the back.
Favorite airport:
—
Favorite airplane:
T 38
Favorite flying flick:
Flying Tigers with John Wayne.
The High and the Mighty with Robert Stack and John Wayne.
Best advice to an aspiring aviator:
Poor planning produces poor performance.
Do not paint yourself into a corner. Always have a way out.
Aviation Motto:
Keep the dark side down and the pointed side forward.
Look No Further. Get Started Today!