Mark Wilson - Owner/Instructor
IFR Flight & SIM Center™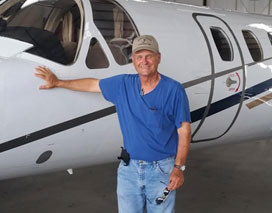 Mark founded IFR Flight Training School™ in 1989, now IFR Flight & SIM Center™. He is also one of our Bonanza and Baron qualified Instructors. Mark began flying Barons in 1969 as an Army Aviator flying the BE-55 which the Army designated the T-42. All of his Multi-Engine and Instrument training was performed in the Baron before moving to the Grumman OV-1 Mohawk which he flew in Vietnam.
Mark entered US Army Preflight in January 1969 at Ft. Wolters, Texas, 10th WOC. He was selected for the Fixed Wing Aviator Training Program due to his previous flight experience. After Army Preflight, he went to T-41B Training at Ft. Stewart, Georgia. He then attended and completed T-42 and 0V-1D Training at Ft. Rucker, Alabama graduating as an Army Fixed Wing Aviator in November 1969.
Mark completed OV-1 Mohawk Training at Ft. Rucker in February of 1970 and then completed Electronic Surveillance School at Ft. Huachuca, Arizona in March of 1970.
Mark served in the 73rd SAC at Long Thanh North, Vietnam from April 1970 through April 1971 arriving at the beginning of the Cambodian Invasion, Mark flew 226 missions covering III Corps, IV Corps and Cambodia. He flew in both the SLAR and IR Platoons. In addition to flying his own missions, he also served as SLAR IP, CBR Officer, PBO Officer, AER Officer, Censorship Officer, Alternate Crypto Custodian and Assistant Avionics Officer. During his Vietnam tour, Mark served 2 TDY tours to Okinawa to attend Sea Survival School and to accompany classified equipment for calibration.
Mark later flew the Baron for a corporate flight department where he was Chief Pilot over the Baron as well as the King Air 200 operations. Mark is an experienced instructor at all levels – Student Pilot through Instrument, Commercial, Instructor and ATP.
Date and place began flying:
Monterey, CA. 1965
CFI since:
1968
Certificates and ratings:
ATP, Gold Seal Flight Instructor
Types of aircraft flown:
Lots. About 50/50 piston vs turbine.
Most memorable flight
– that you are willing to admit to!:
226 missions over Southeast Asia
Mark's Viet Nam Slides – coming soon
Favorite airplane:
Grumman OV-1 Mohawk
Article from OV-1 Mohawk Observer Flight Crew Member
Favorite airport:
Watsonville, CA
Favorite flying flick:
The Aviator, with Christopher Reeve.
Best advice to an aspiring aviator:
Train well and fly often to stay sharp.
Aviation Motto:
More right rudder!
Look No Further. Get Started Today!